The PTA of Bard High School Early College
Register your families with PTA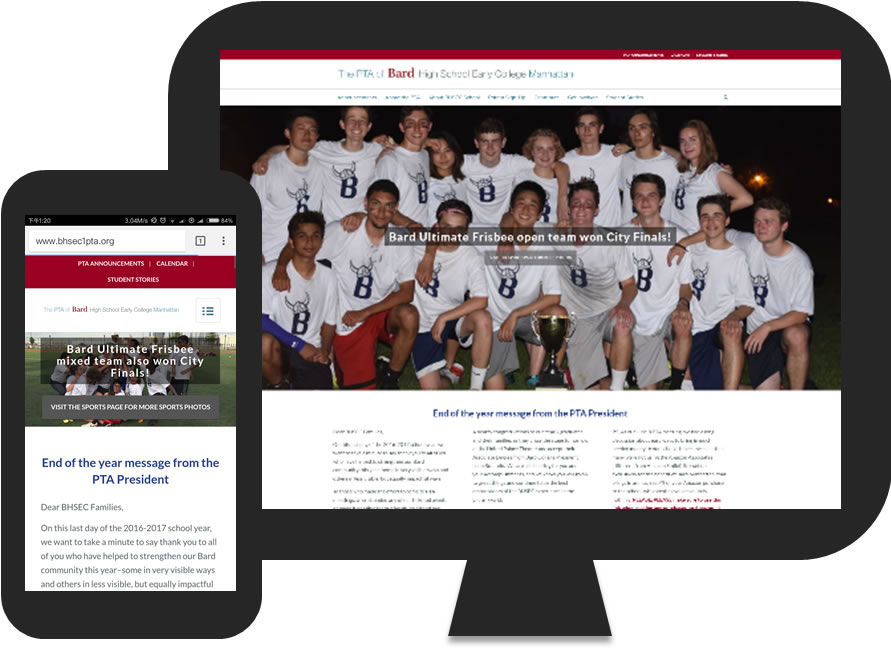 The Bard High School Early College Manhattan PTA is an organization that extends free membership exclusively to BHSEC Manhattan families, faculty and staff.
In June 2001, the New York City Board of Education and Bard College jointly created Bard High School Early College (BHSEC). This alternative to the traditional high school is founded on the belief that many young people are ready and eager to do serious college work at age 16.
Since the school offers a rigorous curriculum that includes a two-year college program, they focus on strong communication and education of their parent body by engaging subject matter experts as speakers and panels to share knowledge and ideas.
AUDIENCE
Student's parents are certainly the audience of this website. They can check the event calendar and board members on the website. Meanwhile, donators are also encouraged to visit the website to get useful information about this organization
Before the PTA website had been created, parents and teachers relied heavily on Facebook to communicate with each other. Although publishing news on social media is easy, it's not good for tracking and maintaining on schedule. A good-looking website and a strong content management system is required to fulfill this need.
SOLUTION
RK web design team implemented a secure, password-protected powerful content management system for the PTA of Bard High School Early College. They could easily upload image, audio and video file through the site and establish update schedules for specific contents. With consistent navigation creation, we provided our client strong capability to live update and automatically dynamic web pages. In order to fully capitalize on the website's fresh new look, our developers fine-tuned the existing donation page, added a process for online volunteer applications, provided greater visibility for donors and improved the site's overall functionality.