Baruch College Center for Academic Advisement
Provide academic advisement services to the undergraduate student body.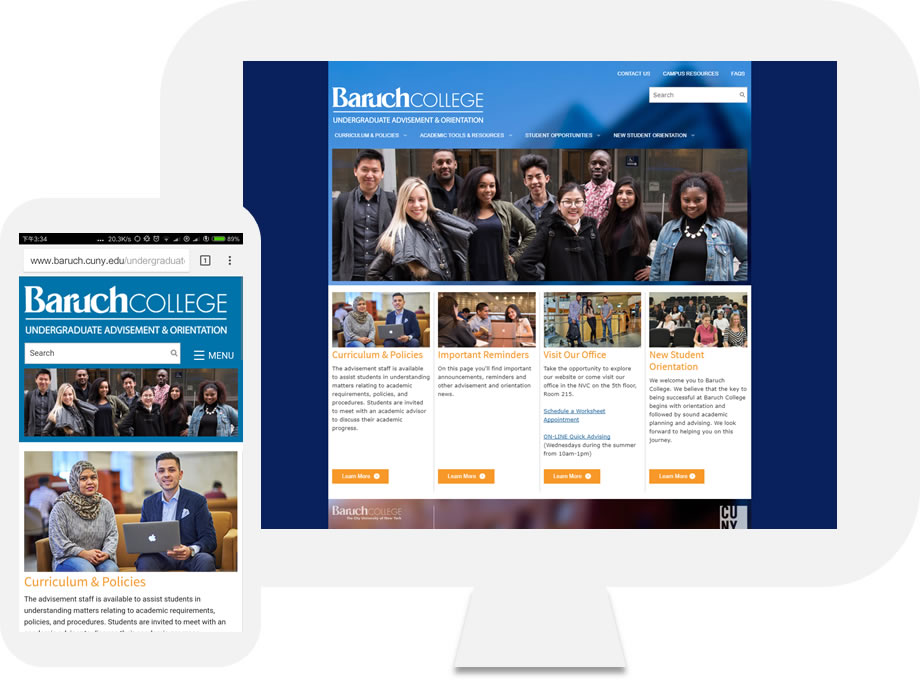 Baruch center for academic advisement offers advisement on course selection, curriculum requirements, and requirements for the major and the minor.
Besides the issues pertaining about the curriculums, the center is also dedicated to advising students about how to do well in school, how to choose the right major, and how the College can provide them with enrichment opportunities.
http://www.baruch.cuny.edu/undergraduate-advisement-and-orientation/
AUDIENCE
This website is targeted to the whole undergraduate student body, including students in good standing, students who are academically at risk, students on academic probation and students reinstated into the college. Faculty is also encouraged to navigate the site to find out more about the Center's services and policies and engage further with their students by advising them.
This website requires heavy application development for its governmental nature. In its back end, employees from BPCA have to deal with a lot of applications from residents, visitors, investors, potential partners for project collaboration or venue booking. To meet this specific need from BPCA stakeholders, we designed and developed a custom database to manage their large amount of content. Applications can get updated information from employees through emails after they fill in their requests fully online.
SOLUTION
In order to create a favorable information architecture, RK web design team did an intensive survey at first to understand our client's needs. Our respondents for the survey include students at all levels, center staff, and college faculty. After we collected all the needs and requests from respondents, we categorized four main sections (curriculum & policies, academic tools & resources, student opportunities, new student orientation) to give detailed directions and links pertaining to those specific problems.
FOCUS
RK web design team worked together with our clients. We gave a mock design to our clients and waited for approval.
Our working process is pretty flexible, and our web design and development professionals will make instant changes to meet clients' needs. Template format was also given so that Baruch college can update their content on their end.
With students' interests putting first throughout our project, we designed our site as a practical and easy-to-use handbook for students to seek for academic advice.