Battery Park City Parks
Explore Battery Park City Parks of various identities and styles.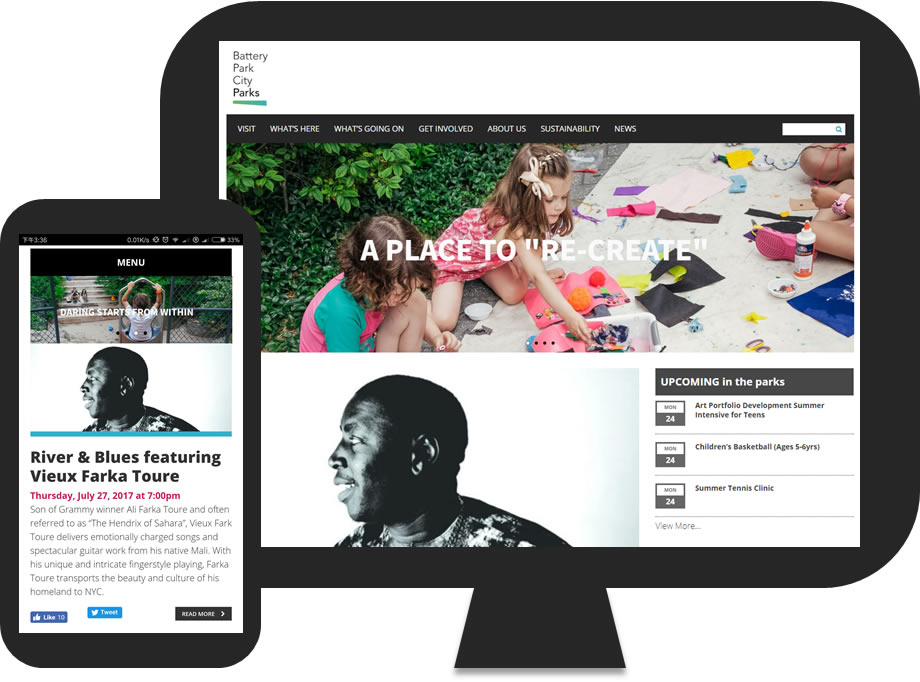 Battery Park City extends for over a mile along the Hudson River, from Chambers Street South to the Battery in Lower Manhattan.
In the 96 acres of space, there are approximately 36 acres of public space, occupied by several parks and gardens.
Those park, operated and maintained by Battery Park City Parks Conservancy (BPCPC), the affiliate of Hugh L. Carey Battery Park City Authority (BPCA), are placed in a carefully planned sequence and linked by an open, beautifully landscaped pedestrian Esplande.
AUDIENCE
Our website, Battery Park City Parks, does more than serve up things to do lists for family vacationers and weekend revelers, it communicates to event planners in search of activity space, teachers hoping to deliver outdoor courses, and New York residents looking for places to chill their own weekends. So how do we meet the intentions of all these users? A powerful content management system and a clear website navigation are required to ensure the hustle-free online experience of all kinds of audience. We also conducted an intensive research for the history and background of battery park city.
Parks, public art, community center and nature (plant, fish, bird). Thousands of pages of events, parks and tourism information required re-working the model for a sitemap and information architecture. Using the data gathered in the research phase and by working hand-in-hand with the client, we consolidated pages and ensure the clean content navigation throughout the site.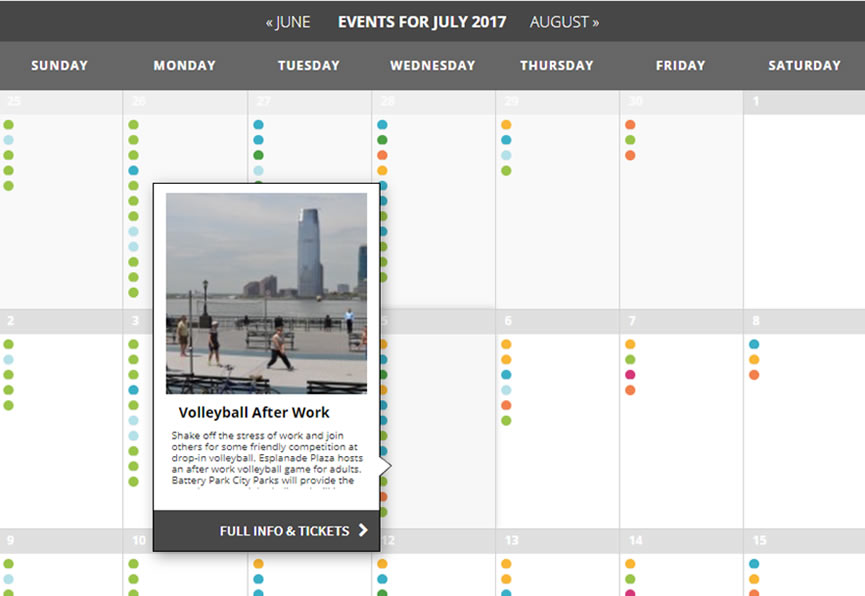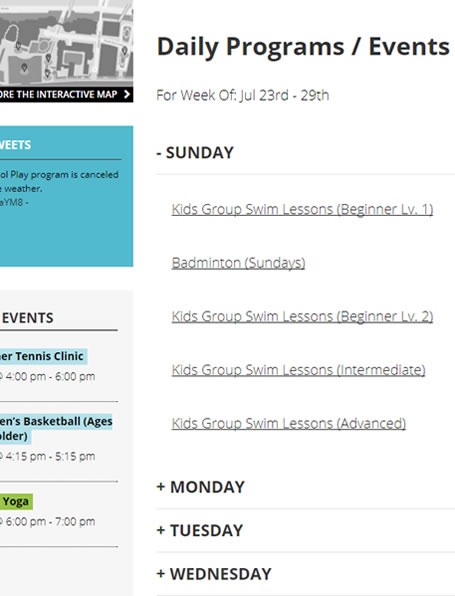 We categorized all the content into seven parts, including the general introduction, direction info, attractions, current events, news, how to get involved and how BPCP achieve their mission for sustainability.
By examining organic search traffic, taking a deep dive into existing analytics and by constant communication with BPCPC's stakeholders, our digital marketing team sought out opportunities to better promote existing content and ensure key pages remained at the forefront.
FOCUS
Our team wanted the diverse landscape of Battery Park City Parks to shine through in our design, and we relied on the website navigation and beautiful photography to carry the message.
Starting with the wireframes, we proposed a photographically-driven site to highlight this bustling city surrounded by waterways, green parks, residential and commercial buildings, and focused on how we wanted the users to experience the flow of the site.
Battery Park City visitors go to their phones to plot their next move, so we took a mobile-first design approach to build the site at the first place.
Frustrated by their previously static and difficult-to-manage site, BPCPC team wanted more control. With WordPress, they can manage the content more easily. By using content blocks, we give BPCPC complete control and maneuverability.
The back-end application was quite heavy, including multiple third-party feeds to deliver events, partner listings and permits application. The tidy work on the back-end of the site resulted in a seamless user experience on the front-end.