Total ePay
Pay and get paid in a secure and easy way.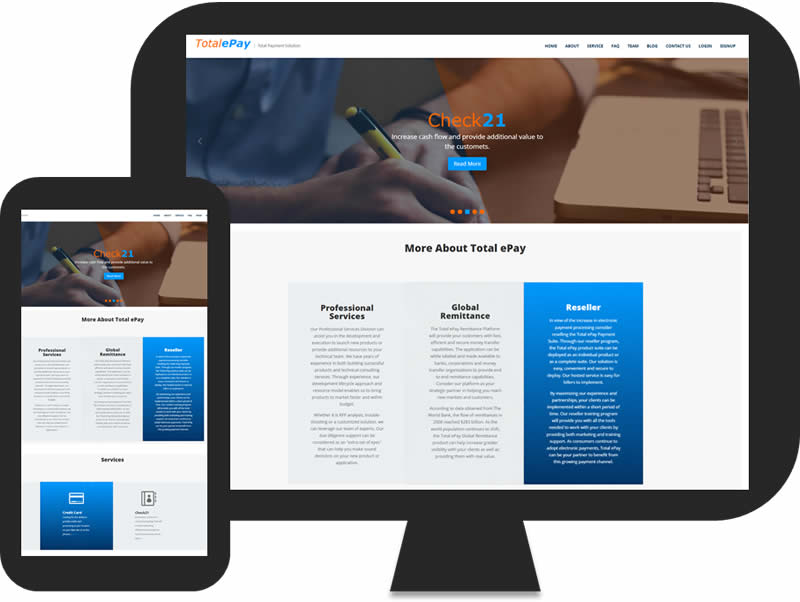 Total ePay, a full online payment suite, is a one-stop solution for companies to collect one-time or recurring payments from customers.
No matter the payment is from customers' banking portals, any walk-in locations or a third-party payment processor, Total ePay can always help companies facilitate the money transferring process without any issues and increase the overall customer satisfaction.
https://www.totalepay.com
AUDIENCE
Powered by RK Software, Inc, Total ePay is basically designed for every business. No matter you are an eCommerce website owner, business looking for online payment solutions, or any merchant service provider, you can always consider our favorite product Total ePay as your partner to facilitate your online payment process.
As a payment connection between businesses and their customers, Total ePay needs to get accessed to thousands of different financial institutions to ensure the hassle-free money transferring process. Customers or business owners don't have to be the members of one specific banks or financial organizations. What they have to do is to sign up for Total ePay, and we will serve as the connection point to link the financial accounts of customers to business owner's accounts.

SOLUTION
To protect your online payment process, Total ePay offers a full suite of financial products including e-Lockbox, Check 21 and Account to Account solution. With those products, customers can debit their accounts to any financial institutions and avoid any unnecessary efforts to manage multiple bank accounts.
FOCUS
At the first place, we built Total ePay as a platform independent solution with high compatibility to other servers, so that our clients don't have to switch to any other hosting service if they want to use Total ePay.